Product Description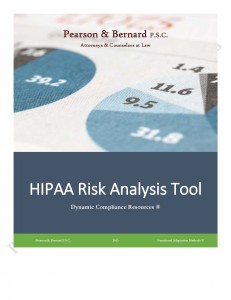 HIPAA Omnibus Rule & HIPAA Risk Analysis 
On March 28th, 2013 the 'HIPAA Mega Rule' was published.  This rule finalized many previous interim rules, and further clarified and mandated new actions among covered entities (e.g. healthcare providers). One of the things that the Office of Civil Rights (OCR) emphasized was that: a full HIPAA Risk Analysis is mandatory.


Commentary from the OCR stressed that such a Risk Analysis is the essential foundation of an compliant IT Security program to effectively and correctly  manage Protected Health Information (PHI and e-Phi).


Earlier this year, a relatively small hospice provider was fined $50,000 dollars by the OCR when it discovered that the organization had failed to conduct any security risk analysis, as required by the HIPAA Security Rule.  Ensuring that your patients' Protected Health Information (PHI & ePHI) must be a top priority! Further, you must be able to assess whether or not you have effective policies and procedures in place to address all aspects of information security, including security of mobile electronic devices!


The OCR will be conducting comprehensive audits of covered entities (aka providers) throughout 2013, and it is in the best interest of your organization to ensure that you are compliant with the require HIPAA security risk analysis. 


We are proud to offer this Risk Analysis Tool as a means for providers to comply with this HIPAA rule. 

Included in this Risk Analysis Tool are:
Instructions for understanding and completing the analysis;

An interactive Microsoft Word based Risk Analysis Tool;

A non-interactive "pdf" based version of the tool (useful for printing and hand notes); AND

A Microsoft Excel based set of worksheets for Inventory and follow-up documentation;