Product Description
PEARSON & BERNARD PSC
MEDICARE COMPLIANCE CRUISE VIII
For Home Care and Hospice
---
January 12-19, 2019
---
Our eighth annual Compliance Cruise for home care and hospice will be a not-to-be-missed 3 days of the latest information on where the industry is headed and how you and your agency can stay ahead of the rapidly changing curve.
There's no better place to do this, then on a cruise ship like the Royal Princess, sailing the Caribbean in the dead of winter.
---
The Compliance Seminar Tuition Pricing is:
First Registration – $900.00
 Additional Registration(s) – $500.00 (each)
The planned topics of discussion and faculty are detailed below.
If you have any questions, call Lou at 888-637-3933, or email Lou@pblaw.org.
CLICK HERE FOR PDF File Containing Cruise Information and Registration Information
PLEASE NOTE:
This is the initial registration for the Conference for one attendee!
After or at the same time you purchase the Initial Registration you may add
additional Conference Registration(s) for additional registrants by clicking HERE.  
Also, please note that registration for the Conference is separate from Cruise booking!
To discuss booking your passage on the ship please Contact Shannon Peterson:
Email: Shannon@medicareconsulting.net; or
Phone: (708) 895-0381
---
Faculty & Topics
---
 
Liz Zink Pearson, Partner, Pearson & Bernard PSC


Compliance Programs /COP Deficiencies/ Physician Cert & F2F




Documentation/ Operational Guidance/ Marketing Compliance


(www.pblaw.org)
    
Jim Plonsey, President, Medicare Training & Consulting
PPS Refinements/ HHGM/Hospice Update/ Billing Changes
OIG Exclusions/ PDGM/ Cost Report Changes 
(www.medicareconsulting.net) 
 
Tim Rowan, Editor, Home Care Technology Report


Compliance is Interdependent with Technology/Tools that




Enhance Compliance and Promote Profitability


(www.rowanresources.com)
 
Michael McGowan, President, Opera Care LLC


Impact Act/ QA and QAPI /HHVBP and Program Integrity/




PDGM/OASIS-D / Surveyors, COPs and CMPs


(

www.operacare.com

)
Cheryl Peltekis, R.N., Partner, Home Care Sales
Drive Up your Census, Not Your Cost/ Making the Right Hire/
Strategic Yet Compliant Marketing Practices and Other Tools
(www.homecaresales.com)
Lou Bernard, Partner, Pearson & Bernard PSC
FLSA Primer/ DOL Enforcement Actions/ OIG Investigations
Title VII update/CMP data trends/ Compensation Models
(

www.facebook.com/PearsonBernardPSC

)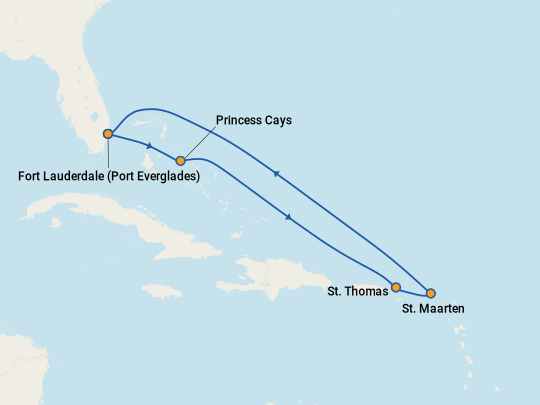 | | | | | |
| --- | --- | --- | --- | --- |
| Day | Location | Date | Arrive |  Depart |
| 1 | Ft. Lauderdale, Florida | Saturday, January 12          |   |     4:00 PM |
| 2 | Princess Cay, Bahamas | Sunday, January 13 | 9:00 AM | 5:00PM |
| 3 | At Sea | Monday, January 14 | At Sea | At Sea |
| 4 | St. Thomas, U.S.V.I. | Tuesday, January 15 | 10:00 AM | 10:00 PM |
| 5 | St. Maarten | Wednesday, Jan. 16     | 7:00 AM |  6:00 PM |
| 6 | At Sea | Thursday, January 17 | At Sea |  At Sea |
| 7 | At Sea | Friday, January 18 | At Sea | At Sea |
| 8 | Ft. Lauderdale, Florida  | Saturday, January 19 | 6:00 AM |   |
---
Cruise / Ship Information & Reviews
Cruisecritic.com's – Review of Royal Princess